In the Heights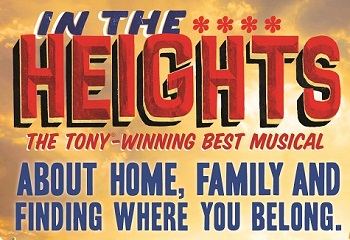 August 3-September 3, 2017
Thursdays-Sundays at 8:30pm
In New York's largely Dominican-American neighborhood of Washington Heights, the windows are always open and the breeze carries the rhythm of three generations of music. It's a vibrant community on the brink of change—full of hopes, pressures, and dreams.

When Usnavi, owner of the corner bodega, discovers that he sold a winning lottery ticket worth $96,000, everyone on the block spends three summer days fantasizing about how they would spend the small fortune and finally achieve their dreams.

From Lin-Manuel Miranda, creator of the Broadway sensation Hamilton: An American Musical, In The Heights is a Tony- and Grammy-winning musical that tells the universal story of the American Dream set to a stirring Latin beat. A jubilant celebration of community and urban life, the show's tuneful score is enlivened by the stirring rhythms of salsa, Latin pop, and rap, and its zesty choreography is like nothing you've seen on our stage before. You won't want to miss it.

Rated PG.