Altar Boyz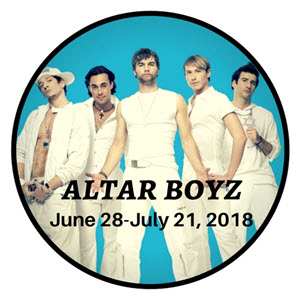 Altar Boyz is a foot-stomping, rafter-raising musical comedy about a fictitious Christian boy band on the last night of their national "Raise the Praise" tour. The Boyz are five all-singing, all-dancing heartthrobs from Ohio: Matthew, Mark, Luke, Juan, and Abraham. With tight harmonies and spectacular choreography, the Boyz do their best to spread the word of God through pious pop music, including signature hits such as "Rhythm In Me," "The Calling," "Jesus Called Me On My Cell Phone," and "I Believe".

Their act worked wonders on the Ohio bingo-hall-and-pancake-breakfast circuit, but as the tour draws to a close in New York, the Boyz begin to question their loyalty to each other and are tempted to take a bite out of the forbidden Big Apple. Faced with a tough decision, they discover that "there is no star as bright as its constellation, no harmony in a single voice."

Winner of the 2005 Outer Critics Circle Award for Best Off-Broadway Musical, Altar Boyz is presented in real time as a concert, complete with audience interaction. With side-splitting songs convincing enough to be played on MTV, tight dancing, uncontrollable laughs, and lighthearted fun, this award-winning original musical is 90 minutes of pure delight.

Rated PG.
Parental discretion is always advised. Parents/guardians should determine beforehand whether the subject matter is appropriate.